Welcome To Mount Joy Foot Clinic & Orthotic Centre
Markham Chiropodist Providing Safe, Comprehensive Foot Care since 2008.
Trust Your Foot Care to Our Chiropodist
Healthy feet and ankle are essential to staying active and maintaining a healthy lifestyle. Foot pain is not normal. Attending to your foot and ankle problems will get you back on your feet doing the things you love to do. Our experience chiropodist can help you with toenail fungus, ingrown toenails, plantar warts, plantar fasciitis, heel pain, flat feet and various other foot problems. Our office will provide you with safe, comprehensive foot care with evidence-based treatment.
Serving Markham, Stouffville and York Region since 2008.
At Mount Joy Foot Clinic & Orthotic Centre, our team of foot specialists keeps up-to-date with current evidence-based treatments. We work with you to individualize a treatment plan for your foot and ankle care. Our chiropodist will focus on the necessary time and effort to listen to your problems. Our chiropodist also provides a complete podiatric exam. We aim to provide you with a positive experience with our foot clinic and make you feel happier and more confident about your foot health.
Podiatrist & Chiropodist are highly-trained Foot & Ankle Specialists.
Podiatrists and chiropodists specialize in foot and ankle disorders. A podiatrist and chiropodist have gone through extensive training to provide you with the best foot care plan to a healthier lifestyle.

We Offer the Most Current, Evidence-based Treatment Options
for Toenail fungus, Plantar Warts, Ingrown toenails, Heel Pain, & other foot & ankle disorders.
Shockwave Treatment for Heel Pain (plantar fasciitis): Shockwave therapy is a safe, quick, in-office physical therapy treatment for chronic heel pain. The chronically injured area of your foot is targeted with several high-energy acoustic waves to stimulate an inflammatory response to heal a chronic injury. Learn more.
Swift Microwave Treatment for Plantar Warts (Verruca): Plantar warts are stubborn. Over-the-counter wart removers often fail to treat foot warts and can get costly. Swift microwave therapy for plantar warts provides an evidence-based, highly effective treatment for stubborn plantar warts. Swift delivers microwave energy through a probe to treat your verruca. Learn more.
Onyfix Nail Correction System for Ingrown Toenail Treatment: Ingrown toenails are painful and can develop into a severe infection. We are one of the first clinics in Markham to provide the Onyfix nail correction system. Onyfix offers a quick, pain-free ingrown toenail treatment to help correct your toenail. Onyfix is NOT a nail brace. Instead, it is a composite that guides the nail back to a healthier shape. Onyfix is safe to use with diabetic feet. Learn more.
Lunula Laser to Treat Toenail Fungus: Toenail fungus can be unsightly, contagious and possibly put your feet at risk for ingrown toenails. Lunula laser offers an alternative treatment option for toenail fungus that compliments topical and oral antifungal medications. Lunula Laser is a non-thermal and pain-free. Learn more.
3D Laser Casted Custom Orthotics: Custom foot orthotics can alleviate many foot problems, including heel pain, arch pain, ball of foot pain, plantar fasciitis, Achilles tendon pain, bunions, hammertoes, flat feet, Morton's neuroma and various other biomechanical related issues. We use Evnisic's precise 3D laser casting AND plaster of Paris casting to get the best impression of your feet. Our orthotics process ensures you receive the best orthotic insole to keep you active. Learn more.
Keryflex Nail Restoration: Toenails can be unsightly for many reasons, including trauma and toenail fungus. Keryflex nail restoration provides you with a medical-grade fix for making your toenails look healthier. Keryflex is an excellent option for spring, summer, and vacation to restore your toenails' appearance. Learn more.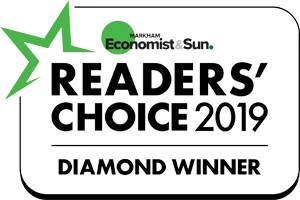 Voted Best Foot Clinic in Markham. Thank you for your support!