Staff
All professionals at Mount Joy Foot Clinic maintain the highest levels of accreditation and pursue ongoing education to stay abreast of the latest trends in the medical field. Read on to learn more about our staff's experience and training.
Suleman M. Bhatti, D.Ch - Chiropodist
Suleman grew up in Markham and has been providing the community with the comprehensive foot care since 2008.
Suleman obtained a strong scientific foundation after earning a Bachelors of Science degree with honors from the University of Toronto in 2002. Suleman has always had a keen interest in health care and caring for others. In the summer of 2007, Suleman graduated from The Michener Institute for Applied Health Sciences as a Chiropodist at the top of his class and was Awarded the Board of Governors' Gold Medal Certificate for Chiropody.
The combination of didactic knowledge and applied experience obtained has provided Suleman with a high degree of knowledge regarding the human feet and its various disorders. Suleman has a particularly strong interest in Diabetic Foot Care, Wound Care, Biomechanics and Custom Foot Orthotics.
Suleman regularly upgrades his knowledge of Podiatric medicine to keep updated with the latest trends and technology available in foot care. This knowledge and skill is filtered back to treating his patients from evidence based practices.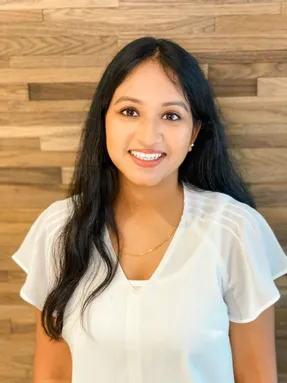 Vithusha Yogeswaran, D.Ch - Chiropodist
Vithusha Yogeswaran completed a Bachelor of Medical Sciences in Physiology with distinction at Western University, after which she decided to pursue a career in Chiropody. She went on to graduate from Michener Institute of Education at UHN and completed her placements in both private and public settings.
During her training, she developed skills in assessment and management of an array of foot and lower limb disorders, including injuries and local manifestations of conditions related to diabetes, biomechanics, sports medicine, dermatology and pediatrics. Vithusha is committed to providing comprehensive person-centered care to her patients using evidence-based practices. Known for her gentle hands, and compassion for her patients, Vithusha treats her patients' feet in a detailed manner and ensures that they are educated on their condition and treatment plan.

Outside of Chiropody, Vithusha enjoys spending time with her family and friends, trying out new restaurants, reading and binge-watching shows on Netflix.
Pauline Looi, D.Pod.M - Chiropodist
Pauline is a registered Chiropodist and has been licensed to practised for over thirteen years. She completed an undergraduate degree in Health Studies and Anthropology at the University of Toronto where she graduated in 2005 before setting her focus on Chiropody at the Michener Institute for Health Sciences. She is involved with the College of Chiropodists of Ontario as a committee member for Patient relations and Fitness to Practice. She is also a member of the American Podiatric Medical association and Ontario Society of Chiropodist.
Pauline has extensive knowledge working with clients with chronic complex diseases such as Diabetes and Geriatrics. Having worked in the Diabetes education program, hospital and community health centres, she has done many workshops and presentations for Diabetic foot health.
Outside of Chiropody, Pauline enjoys gardening and is an avid runner who has tried many types of runners for road and grass terrains. Pauline is always on the hunt for the next running shoes.